STAGING A HOUSE FOR SALE BUMPS UP PRICES
Are all houses worth home staging? Absolutely yes!
Without a doubt, home staging or even just re-styling with your existing furnishings can transform a property to attract more buyer interest.
Staged Homes Sell For Higher Prices
They also sell for higher prices and shortens the time on the market which reduces advertising expenses. A home staged house will win over competing houses for sale in the area, in your price range. Find out more here.
Real estate agents often mention that staging can add 15-20 percent onto an estimated sale price because of the impact it can have.
When buyers see a house staged, their perception of value is elevated and that is always good for a seller.
Staging a humble home
Houses in lower value areas have been known to sell lightening quick when staged.
On the surface, a home can look plain so focus on the internal presentation, entranceway and curbside.
These are all things that cleaned, water blasted, weeded and tidied can hugely improve the first impressions on buyers. The impression they get in these places, is how they will approach the rest of their viewing be it good or bad.
Also for properties with a plain external look, agents often use the internal photos as the advertising photos.
This has been a successful strategy for many sellers although not all agents to this.
Look at the photos below...who would have thought this 1950's house would have such beautiful rooms and especially a granite kitchen bench?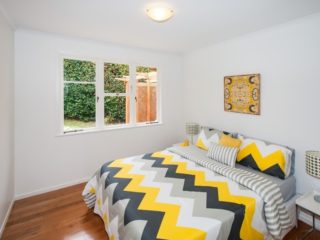 Home buyers shop comparatively - stand out
A property of this type above, in it's area and price range would be very likely to stand out and get to the top of a buyer's list.
Buyers 'shop' for houses comparatively and most have a criteria or checklist. This might include number of bathrooms, living areas or bedrooms, size of kitchen or section.
Many buyer's can't always afford everything on their list so they might sacrifice something for a staged house because it had wow factor, allowing them to visualise themselves, in the space that's been maximised and styled.
The upshot of why home staging works?
Home staging has been proven to:
Increase the volume of interest from advertising
Bring more viewers at open homes
Bump up buyer competition
Potentially impact sale prices by 10 per cent to 15 per cent
Sell in half the average time frame for the area
Shortened timeframes = reduced advertising costs
Sell properties previously unsold privately, quickly
Why wouldn't you?
Wise Up NZ Tip
If you've paid your agent up front for an advertising campaign and your house sells prior to the budget allocation you've provided them, you can request a refund of what has not yet been spent. Because home staged houses tend to sell fast, this is not uncommon.
You might also like:
Absolute No-Nos: The Home Presentation Sins
Advice About Getting A Property Appraisal
Article Updated February 10, 2021