GET REAL ESTATE AGENT REVIEWS BEFORE SELLING

When selling a property, the biggest decision to make is who to list it with, and real estate agent reviews can help narrow the search down.
But when it comes to the best real estate agents, is it the one who sells the most properties? Or comes from the biggest real estate company? A local company? A 'flyer in your letterbox' real estate company, the agent who sold you the house or the cheapest real estate company? Should you sell with multiple companies or just one?
Just where do you go for independent real estate reviews, advice and guidance about selling a house and choosing a real estate agent to sell what is likely to be your biggest financial asset? An impetuous decision can be very costly indeed.
Agencies are not independent, so where to go for non-biased help?
It seems, when faced with such an important decision about something you have limited experience of (and which can be life changing in either a positive or negative way) the most obvious place to get information is from real estate companies directly. But the information you will receive won't be independent, it will be about them and their services. And once you're in the fold it's hard to back out.
The reality is that it is almost impossible to be 100 per cent informed about selling a house. There are many organisations and services other than real estate companies that have valuable information relevant to home sellers but often people are unaware of these info sources.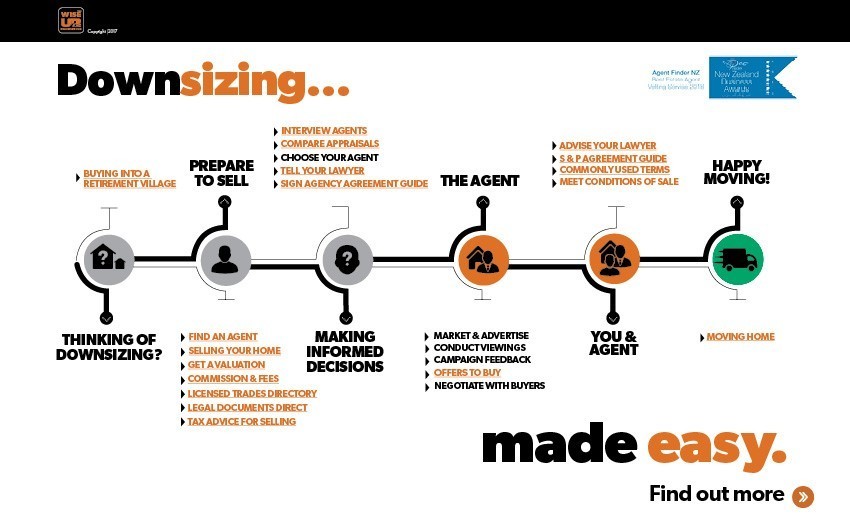 Free And Independent Real Estate Agent Reviews
The safest way to find genuine real estate agent reviews and information about selling a house is through New Zealand's only real estate agent vetting service and independent information hub. The award winning Agent Finder NZ has raised the bar for property consumers during its 10 years in operation.
The team at Agent Finder NZ independently review all New Zealand companies and agents using a comprehensively compiled list of criteria. Using this, they create tailor-made short lists of agents as a free service to home sellers. During its time in operation, Agent Finder NZ has amassed dozens of real estate reviews from grateful people confirming its place as a valuable and much needed service that advocates for home sellers.
It is important to note that real estate agents cannot log-in and self-promote on the Agent Finder NZ website so it is a genuinely independent and authentic real estate advisory service.
Independent Online Real Estate Advice
When getting ready to sell a house people often just want to find information before speaking to any real estate agents.

Agent Finder NZ has created easy to follow charts and info kits in response to this need for advice and information so that intending home sellers will be properly informed and protected.
Free Download | The Process Of Selling A House (made easy)
Free Download | How To Sell A House For The Optimum Sale Price, Quickly
You might also like:
Article updated July 1 2020 | About