HOW TO MAKE A BED LOOK GORGEOUS

There is nothing more delightful than sinking into a beautifully made bed, but there is also satisfaction in seeing one well made - which is why bed presentation is a key part of staging a home for sale.

Half the reason good motel and hotel rooms are so appealing is the attraction of a lovely freshly made bed.
Presenting a house for sale requires a nicely presented bedroom with the bed often the main feature. It's about creating a look that potential buyers can imagine themselves in, or aspire to live in.
This is why staging a home for sale involves creating a neutral look rather than one personal to you. It's easy for buyers to picture a place as their own rather than seeing it as your place.
One thing you can do when getting ready to sell is invest in some classy new bedding for the master bedroom and perhaps other rooms if you don't already have some. Besides lifting your room up a notch, you will be able to take it with you to your new home.
You may have admired beautiful pictures of luxurious beds in the past but never quite managed to pull off that look.
---
Check out the video below for instructions on how to skillfully make up a bed in white.
---
Shop online for bedroom home decor now
---
Setting the bedroom tone
The bedding you choose can set or change the tone of the room.
Soft and satiny pastels, crisp and cottony whites, vibrant stand out confident colour, or sophisticated gender-neutral patterns and tones.
How you dress your bed will create different impressions - luxe, modern, feminine, masculine, simple and so on.
Firstly, there are a couple of different directions you could head in with the simple addition or removal of the headboard.
With head board, the substantial look
Some say a headboard is a must, but keep in mind it does create a specific look.
It's a look most people prefer, but it is not necessarily something every bed should have.
If this is the look you are aiming for, check out this page for tips.
The no head board hip, urban look
If you've wondered why some beds have a pared down youthful look, with a Zen feel, but you haven't quite figured out how that is, it may be because these beds do not have a headboard.
Apartment Therapy has created 10 alternative bedroom decorating ideas that do not include the headboard.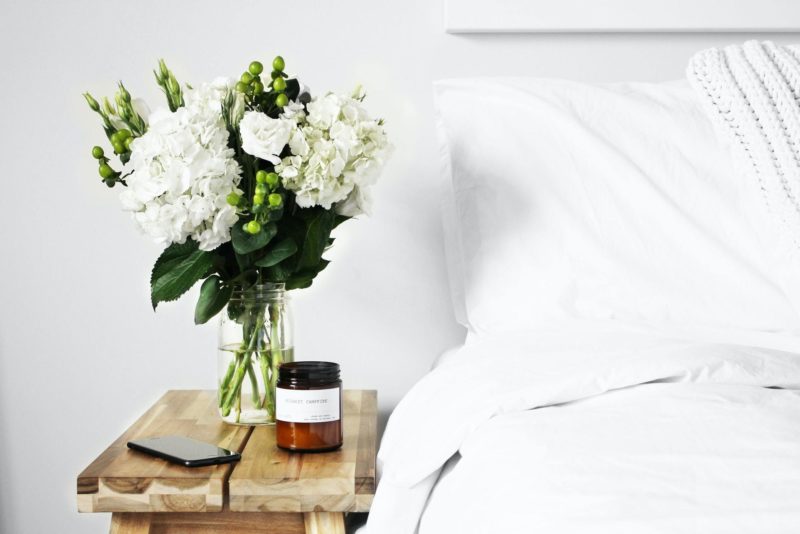 Cotton and linen versus polyester
If you are aiming for the luxury of a lovely sleep, then it is cotton or linen all the way, the higher thread count the better - and remember this is one of the things you can take with you to your new house.
Natural threads look and feel high quality and will impart a high end look to the room.
However, for the sake of dressing the bed, if you are on a budget the synthetic options and blends which are readily available can, with care, achieve a suitable look.
But beware of cheap-looking patterns because they will be noticeable and stamp a cheap look on the room.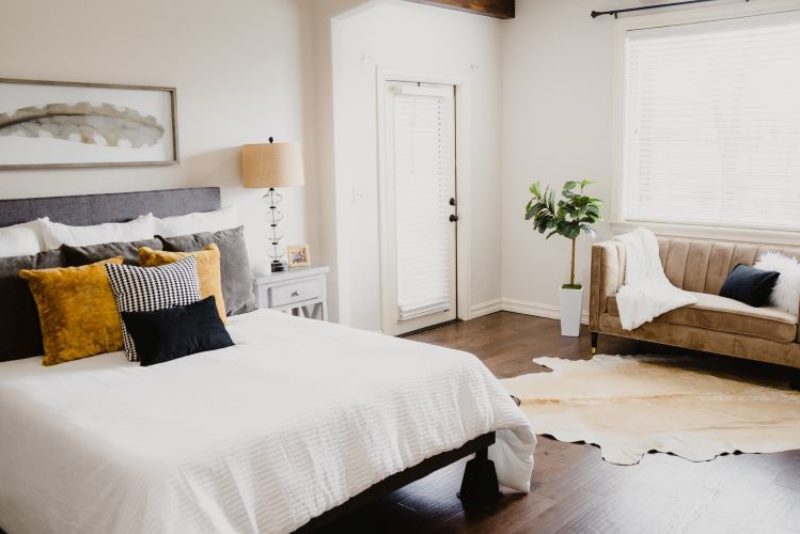 Making your bed to sell the house
Depending on the rest of your decor, the luxe headboard look is the safe way to go, or the simple Zen style done well.
It depends on the property you are selling which style will suit best.
An urban warehouse apartment would suit the Zen approach, whereas a substantial middle class home might call for headboard luxe.
What about the pillows?
The pillows are part of the trick to layering and adding pattern and texture.
The appeal of an all-white bed is in layering different shades of white - from swan white through to cream and pearl, or subtle colour-tinged whites - and/or using different textures - linen, fluffy, embossed, satin, matt, satin-matt striping...
The bed can be one shade of white but will be subtly beautiful if it is made up of different textures.
Pillows can also be used to add colour and can change the mood depending on whether you go for scarlet or duck egg blue, for instance.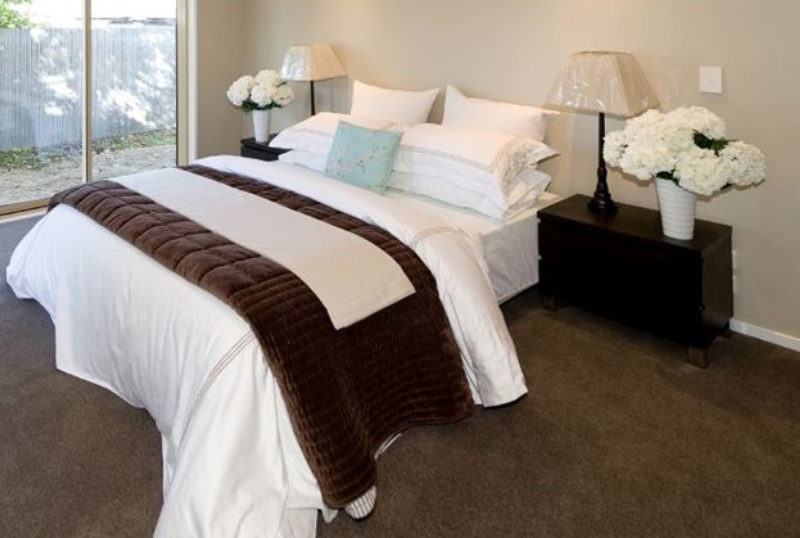 Not too matchy matchy
It used to be that a properly turned out bed - or house - was one in which everything matched.
Now the sophisticated look is to cleverly mix and match pattern, texture and colour.
Those who do this well take it to an art form.
What not to do
If you use a valance, steer away from frills and pleats if you can.
Valances can be found wherever linen is bought and are usually very reasonable in price.
Also, don't bring attention to a valance with colour, it's there to prevent the eye seeing what lies beneath the bed!
Wise Up Tips:
When presenting your bedrooms for photos and viewings, hide all visible electrical cords.
If your bed head is not really doing the job, get rid of it - we've been known to saw one off before!
If you can't do that, purchase some European cushion inners (available from all linen shops) and stand them up against the board, then place your other pillows (two on either side like a hotel), in front.
If your pillows have got a bit flat over the years, stick two into one pillowcase to give it that luxurious look - it does work!
You might also like:
Article updated April 14, 2021 | About
Stay updated
Sign up to news about buying a house by adding your details below: