WHY YOU NEED THE MASTER BUILD 10-YEAR GUARANTEE
By Registered Master Builders | Guest Article

We know building a new home or doing a major renovation is a big deal – you need a builder you can trust, and you also need to make sure you are protected by New Zealand's leading building guarantee, the 10-Year Master Build Guarantee.
A building guarantee is the only way to protect your investment when you are renovating or building a new home. And when it costs less than 1% of the build cost, why wouldn't you protect your biggest investment?
Too many homes are being built in New Zealand without the protection of a warranty, says Registered Master Builders Chief Executive David Kelly.

"Building a new home or undertaking a major renovation is often the biggest investment of someone's lifetime, yet we estimate about half of all new builds are not protected."
There is a lack of understanding about the limitations of protection under the Building Act and Consumer Guarantees Act.
Master Build Guarantee provides much greater protection than currently under law
"Building guarantees provide much greater protection than both these acts, and provide cover not included by general house insurance," says David.
"Under the Building Act and the Consumer Guarantees Act, consumers are not protected for Loss of Deposit and Non-Completion, and cover for Materials and Workmanship is limited to one year.
---
"Most importantly, under the Building Act, if a builder is no longer in business, the warranty becomes void. A Guarantee ensures your investment is protected regardless of whether your builder is still in business or not."
---

The Master Build 10-Year Guarantee products have been developed in New Zealand for New Zealand homes, and can only be offered by Master Builders. The Guarantee has protected more than 140,000 homes over the past 25 years – and they are constantly being updated to reflect the ever-changing New Zealand building environment.

Whether your new build or renovation is big or small, our guarantee can be tailored to suit your needs.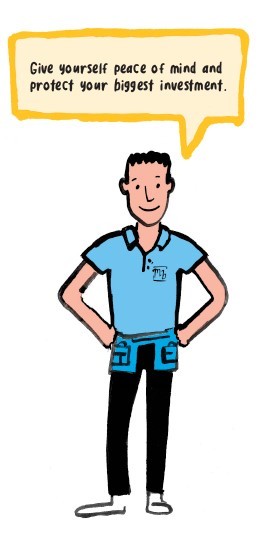 What you need to do to make sure you're covered by the Master Build 10-Year Guarantee
Often people have assumed that because their builder is a Master Builder, they automatically have a Master Build 10-Year Guarantee. This is not the case.
If you and your builder haven't talked about the Guarantee, make sure you ask them about it. But remember, only a Registered Master Builder can offer the Master Build Guarantee.
Your builder will need you to sign documentation, and they will then send this to Master Builders before work starts.

The Guarantee is not valid until you and your builder have received written confirmation from Master Build Services. If you have not received written confirmation within 14 days, you will need to contact Master Build Services.
---
Give yourself the peace of mind you deserve and make sure you ask your builder for a Master Build 10-Year Guarantee. Find out more at Masterbuilders.org.nz
---

You might also like: